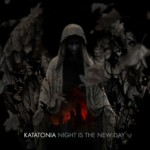 Katatonia veröffentlichen das Artwork zu Night Is The New Day. Das Nachfolgealbum zu The Great Cold Distance, das ich nach wie vor zu eine meiner Lieblingplatten zähle und auf das auch im neuen Artwork angespielt wird, erscheint am 2. November. Leider müssen wir auf Hörproben voerst noch verzichten.
So lange werde ich mich jetzt noch mal mit dem Gastauftritt von Jonas Renkse, seines Zeichen Frontamnn bei Katatonia, auf der aktuellen
Long Distance Calling begnügen.
Katatonia spielen zudem live ein Konzert in Deutschland, als Support von Porcupine Tree in Bremen (Tickets). Auch wenn ich meine Karte für die Porcupine Tree Show in den Hamburger Docks bereits habe, lässt mich dieses Package doch noch mal grübeln.
Musik von Katatonia kann man hier kaufen.
Ähnliche Artikel:
Comments (2)